About C-CAMP
The Centre for Cellular and Molecular Platforms, or C-CAMP an initiative supported by Department of Biotechnology, Govt of India is an enabler or catalyst of cutting-edge research and innovation in the life sciences since 2009. C-CAMP is also a member of the Bangalore Life Science Cluster (BLiSC). We facilitate Bioscience Research and Entrepreneurship by providing Research, Development, Training and Services in state-of-the-art Technology Platforms. To know more about our technology platforms click here.
As a part C-CAMP's mandate of promoting entrepreneurship and innovation, C-CAMP has created and fostered an entrepreneur-friendly culture in and around Academic/Research environment through its involvement in Seed Funding Schemes for Startups, Entrepreneur Mentorship program and Bio-Incubation facility. To know more about our innovation and entrepreneurship programs click here.
At C-CAMP, we have established State-Of-The-Art Platform Technologies which are essential requirements for success and leadership in the field of Life Sciences. C-CAMP allows Investigators to use Techniques as tools and not be limited by Technological barriers while pursuing challenging scientific questions.
Events
July 5, 2022
to
July 7, 2022
More
Bangalore Life Science Cluster (BLiSC)
---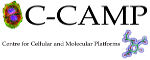 Centre for Cellular And Molecular Platforms (C-CAMP) is an initiative of Dept of Biotechnology, Ministry of Science and Technology, Govt.of India, with a mandate to be an enabler of cutting-edge life science research and innovation.

The Institute for Stem Cell Science and Regenerative Medicine (inStem), is dedicated to the study of stem cell and regenerative biology.