CCAMP-InDx program

To respond to the COVID-19 crisis across India, under guidance of the Principal Scientific Adviser to the Government of India, Indigenisation of Diagnostics (InDx) program anchored at C-CAMP, aims to build large capacity of COVID-19 molecular diagnostic kits & reagents. The goal of the program, through a public-private-partnership, is to bring together different stakeholders in order to ensure necessary supply of Covid-19 molecular diagnostics reagents.
It intends to establish a strong supply chain network of Indian MSMEs and hand-hold to ensure that the international standards of quality are met and capacities are scaled-up to assemble one million indigenous diagnostic kits per day. CCAMP-InDx has conceived a Digital Platform & Centres of Excellence (CoEs) to support its mission. The program is funded by the Rockefeller Foundation and is executed by C-CAMP at Bangalore Life Sciences Cluster (BLiSC), in collaboration with Centre of Excellences (CoEs).
Have a research problem, a desire to indigenize or scale-up? Get in touch with us!
Let us partner to build an environment of completely indigenized high-quality molecular diagnostics.
Engage with us: indx-support[at]ccamp.res.in
Submit test request: https://www.ccamp.res.in/tps/
Register products: https://indx.ccamp.res.in
Highlight regulatory issues: indx-regulatory[at]ccamp.res.in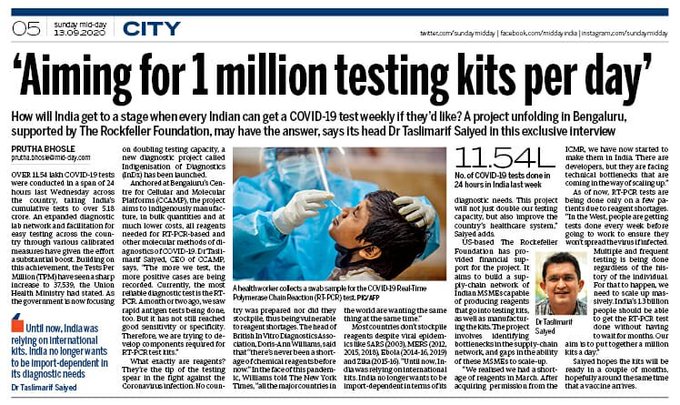 CCAMP-InDx in press: 
FEBRUARY 2023 
SEPTEMBER 2020
OCTOBER 2020
DECEMBER 2020
MARCH 2021
APRIL 2021
DECEMBER 2021