Impres Health is a start-up growth engine that enables start-ups to cross the "Market Valley of Death" and commercialise their technologies (impreshealth.com). Impres Health offers support to promising and innovative startups in life sciences and biotechnology (Bio, Agri & Health sectors) in India and functions as a catalyst in bringing technologies/products forward to piloting/commercialization.
Impres Health has conceptualized a new program under their umbrella termed the Impres Health Start-up Expansion program (I-SEP). I-SEP is an equity-based partnership program to help post-POC stage start-ups take their technologies closer to market, by leveraging the domain expertise, global networks and connections of Impres Health in the sectors of bio-tech, agri-tech, healthcare and food-tech. Impres health will work closely with selected start-ups, bringing in their huge global network to handhold the start-ups through mentorship, investment, market access, IP etc. for creating an international impact.
C-CAMP with its vast experience in supporting entrepreneurs in will function as the knowledge partner for this program.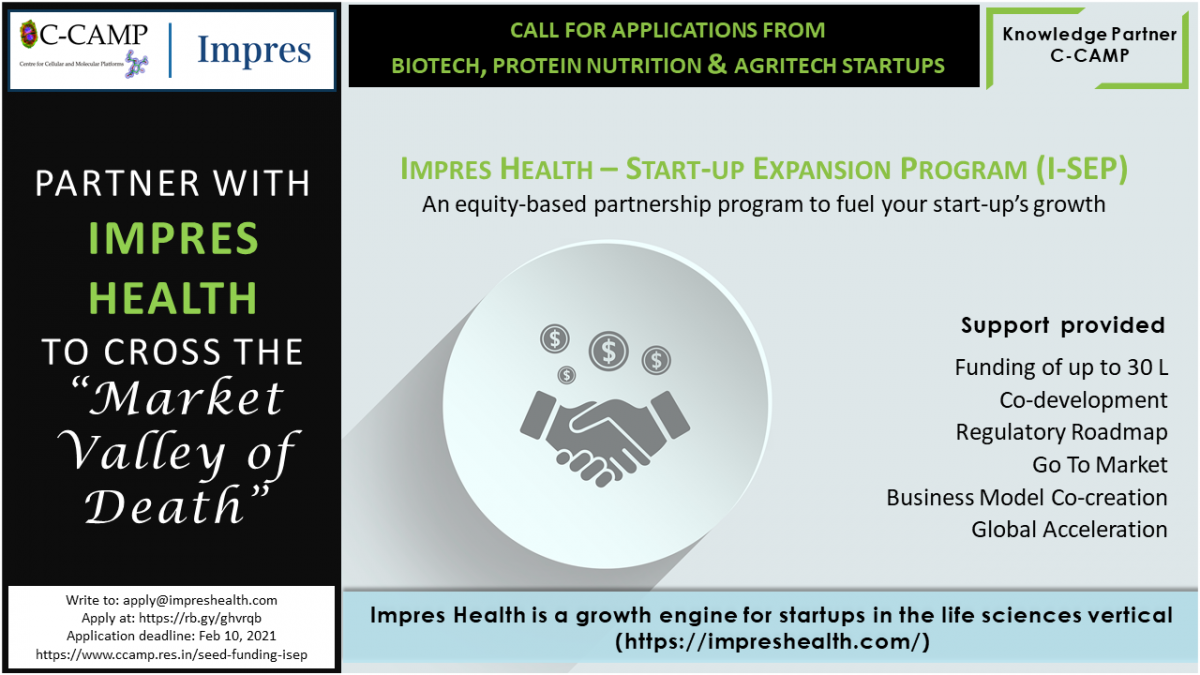 Eligibility:
This scheme is meant for post POC stage start-ups looking to pilot/validate/commercialize their technologies and expand into international markets
Scope of Support:
Funding of up to 30 L
Co-development
Regulatory Roadmap
Go to Market
Business Model Co-creation
Global Acceleration
Selection Criteria:
The startup should be working towards innovative technology/technologies and should be product oriented (not services oriented)
The technology should be novel and there should be potential for generation of IP
The technology should fulfil an unmet need and have an impact along with a strong technology/knowledge component
The startup should have a competent team
The venture must be registered as a private limited company
The entrepreneur(s) must be willing to share equity in the venture
Apply: https://rb.gy/ghvrqb
Contact Us:
For any further information please contact apply@impreshealth.com