Course Title:
Methods in Drosophila Biology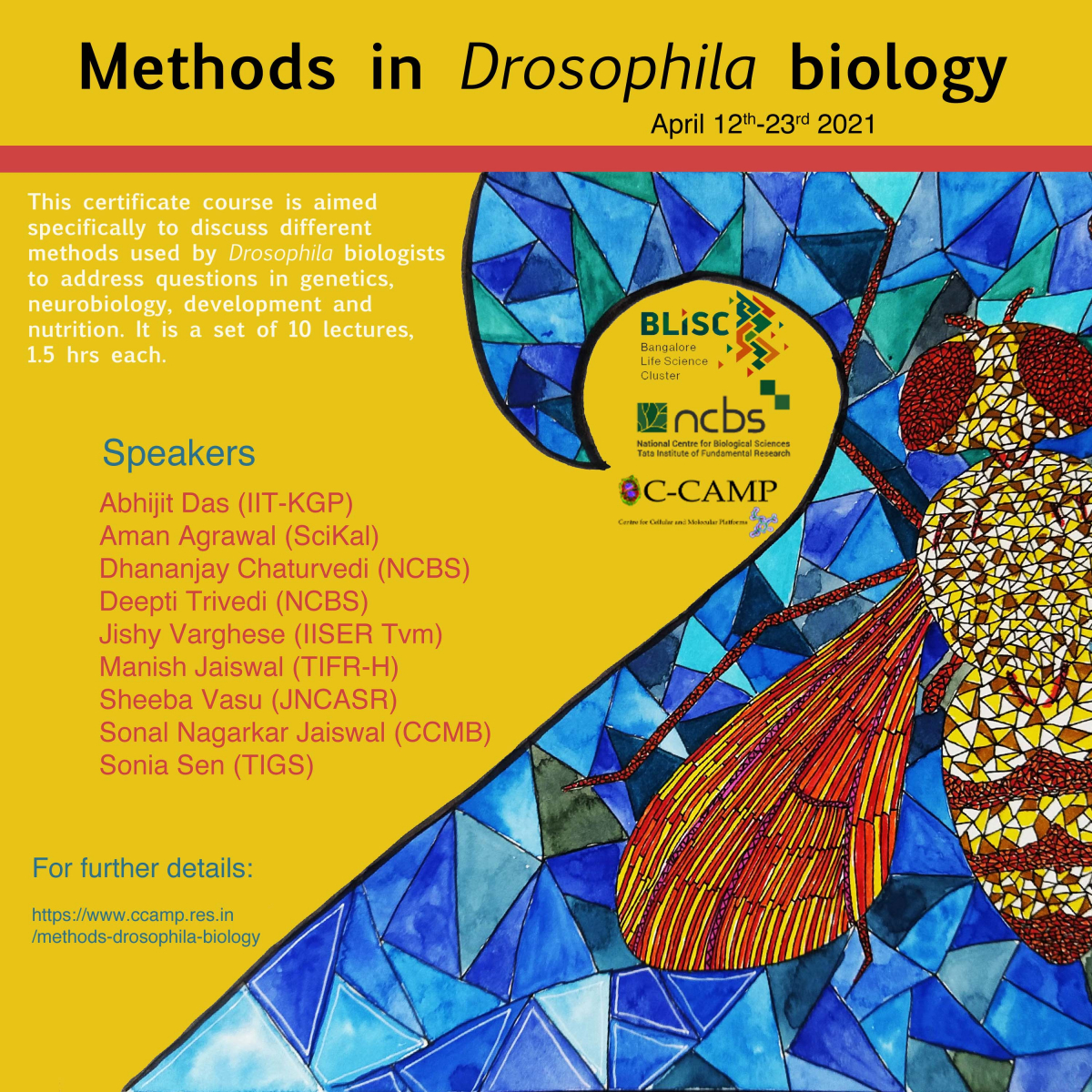 Methods in Drosophila Biology
Although it is easy to understand the concept and science by reading publications, methodology is usually best understood by demonstration and discussion.  This course is aimed specifically to discuss different methods used by Drosophila biologists to address questions in genetics, neurobiology, development and nutrition. In addition to discussing the technique itself, we will focus on how experiments are done using flies, with specific nitty-gritties of each experiment. For example, how flies should be reared for an experiment, what effect overcrowding or a lower number of flies can have on a specific experiment, how environmental factors and circadian rhythms affect the outcome of behavioral experiments, what increases or decreases the rate of recombination in the flies, how many flies should be used for a specific experiment etc. These topics are hardly written, but passed on to students verbally from their seniors. We hope that this series of talks will try to bridge this gap.
No.

Topic

Speaker

 Date

1

Basics of Drosophila Genetics & Virtual Tour of Fly Facility

Fly Facility, Bangalore Life Science Cluster

(BLiSC: NCBS, inStem, C-CAMP)

12, Apr

2

Taxonomy, Culturing, Nomenclature in Genetics, Planning Genetic Crosses

Dhananjay Chaturvedi, NCBS Bangalore

13, Apr

3

Studying Drosophila Development

Abhijit Das, IIT Kharagpur

14, Apr

4

Studying nutrition in flies

Jishy Varghese, IISER Trivandrum

15, Apr

5

Transgenesis & Generating Mutant Drosophila Lines

Deepti Trivedi, Fly Facility, BLiSC

16, Apr

6

Drosophila as model to study Human disease

Sonal Nagarkar-Jaiswal, CCMB Hyderabad

19, Apr

7

How to perform large scale genetic screens

Manish Jaiswal, TIFR Hyderabad

20, Apr

8

How circadian rhythms affect fly behavior

Sheeba Vasu, JNCASR, Bangalore

21, Apr

9

Using clonal analysis to study Drosophila brain

Sonia Sen, TIGS Bangalore

22, Apr

10

Studying behavior in flies

Aman Agarwal, SciKal, Bangalore

23, Apr
Maximum number of participants: 30 | Scholarships available: 5 | Course fees: Rs 2,500.00 (GST@18% extra) | Apply here: https://forms.gle/7nxQwdo9Ne7exPPV7
Date:
Monday, April 12, 2021
to
Friday, April 23, 2021
Last Date of Application: