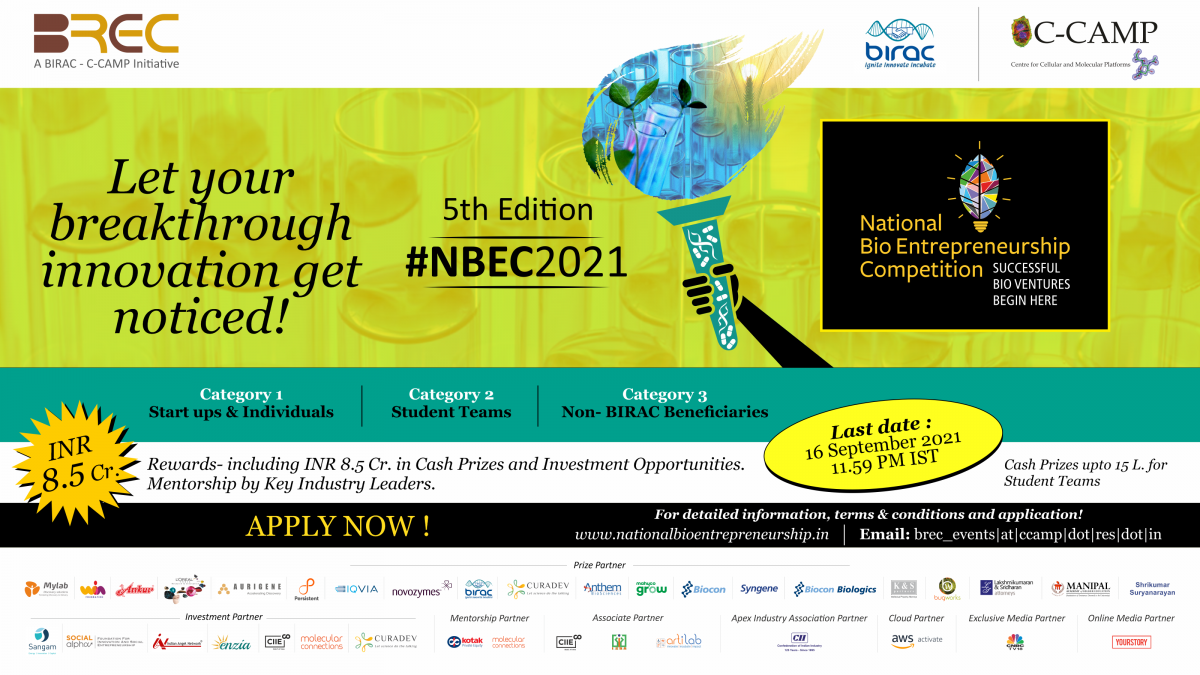 Dr. Renu Swarup, Secretary, Department of Biotechnology, Govt. of India and Chairperson BIRAC officially announced the launch of the fifth edition of C-CAMP organized National Bio Entrepreneurship Competition (NBEC) today.
NBEC, India's largest and most prestigious national competition for bio entrepreneurs is held by Centre for Cellular and Molecular Platforms - C-CAMP every year to attract, identify and nurture deep science driven business ideas that break new ground in addressing societal challenges.
The competition now in its fifth year is a nationwide search for exceptional ideas in the life sciences domain with potential for both social impact and commercial success. 
Conducted as a part of BREC – the BIRAC Regional Entrepreneurship Centre, established at C-CAMP in partnership with BIRAC, NBEC 2021 has in store an unprecedented 8.5 Cr INR in cash prizes and investment opportunities this year for winners. 30+ Industry and Investment Partners have come forward to encourage and support bio-entrepreneurship in India through this competition.
In a bid to build a groundswell of entrepreneurs, inculcate and ignite an innovation-driven entrepreneurial spark in society, C-CAMP, for the second year in a row, has expanded NBEC eligibility beyond startups and entrepreneurs to include students. NBEC 2021 campaign calls for aspiring student teams, entrepreneurs, start-ups and established companies across India.
Along with Dr. Renu Swarup, Secretary, Department of Biotechnology, Govt. of India, Dr Kiran Mazumdar Shaw, Executive Chairperson, Biocon, Smt. Anju Bhalla, Joint Secretary (A), Department of Science and Technology, Government of India and MD, BIRAC and Dr Manish Diwan, Head, SPED, BIRAC formally released the competition poster and opened call for applications in presence of several eminent national and international dignitaries from India's biotech ecosystem in the virtually conducted event.
Dr Swarup in her address said "NBEC is a wonderful example of how all stakeholders can come together in mission mode to energize the ecosystem. As the Hon'ble PM, Shri Narendra Modi said at India's 75th Independence Day celebrations, our innovators are the Nation's global ambassadors. Beyond Aatma Nirbhar Bharat and self-reliance, our startups now need to train their eyes on global markets with solutions that address local challenges from a global perspective. The ecosystem must scale and consolidate to enable this."
Dr Kiran Mazumdar Shaw, Executive Chairperson, Biocon acknowledged NBEC's importance in Indian bio entrepreneurship sector in a recorded message saying "NBEC is a very exciting competition because it unleashes new ideas and entrepreneurial potential of our young people year upon year. COVID-19 has brought the spotlight firmly to biosciences and healthtech. I urge you all to leverage this narrow window of opportunity to pursue your bio entrepreneurship idea and join the Nation in showing the world our rich talent pool of innovators and startups."
With approximately 10,000 applications received from 34 States & UTs in the past 4 years, NBEC as a competition has established itself not only as India's biggest innovation showcase but also as a unique platform to magnify and democratize the spirit of science-led entrepreneurship among Tier II, Tier III cities.
NBEC in four years has created a go-to 1000+ strong repository of carefully vetted and expert hand-picked business ideas spanning all sub-domains of Life Sciences, including healthcare, agriculture and environment, with special focus on emerging areas like digital health, maternal & child health, Antimicrobial Resistance, water and sanitation, green chemistry, and personal care. This has built a steady pipeline of innovative technologies with demonstrated commercial viability, to address some of India's most formidable challenges in healthcare, agriculture and environment.
The fifth edition promises to be no different, having been joined by 33 national and international industry and investment partners.
Winners of The National Bio Entrepreneurship Competition 2021 can receive upto INR 8+ Cr in cash prizes and investment opportunities in the startup category. Student teams stand to win cash prizes of upto INR 15 lakhs. All winners will also get access to mentorship by key industry leaders.   Shortlisted finalists in both startup and student tracks will participate in a specially crafted Entrepreneurship Development Boot Camp to provide an opportunity to learn important Entrepreneurship development skills from top-of-the-line industry and academic mentors.
NBEC partners this year count some of the biggest names in Indian biotech arena – Mylab, Win foundations, Ankur Seeds, L'Oreal, Aurigene, Persistent, Iqvia, Novozymes, BIRAC, Curadev, Anthem Biosciences, Mahyco Grow, Biocon Limited, Syngene, Biocon Biologics, K&S, Bugworks, Lakshmikumaran & Sridharan Attorneys, Manipal Academy of Higher Education, Shrikumar Suryanarayan [Prize sponsors] Sangam VC, Social Alpha, IAN, Enzia Ventures, CIIE, Molecular Connections, Curadev [Investment partners] Kotak, Molecular Connections [Mentorship Partners], CIIE, ISBA, Artilab Foundation [Associate partners] CII [Apex Industry Association Partner] YourStory [Online Media Partner], CNBC TV18 [Exclusive Media Partner] and AWS [Cloud Partner].
C-CAMP CEO and Director Dr.Taslimarif Saiyed said, "NBEC is a platform literally for anybody. We have broken down walls to make the competition agnostic across demographies - students, startups, scientists, entrepreneurs, companies, BIRAC and non-BIRAC community - NBEC has something for everyone. We are very keen to take it forward with NBEC 2021 with support from our phenomenal industry partners."
Reminding the audience about the world's sustainability concerns, Smt Bhalla said, "While it is impossible to know repercussions and footprint of new technology for environment, we must be actively cognizant of the connect between technology & sustainability as a pre facto exercise rather than post facto. I request all stakeholders of NBEC 2021 - innovators, mentors, jury, industry partners to be mindful of this."
Dr Manish Diwan, speaking at the launch event today said, "NBEC is a huge opportunity to integrate both at the base of the pyramid, with innovations at the idea stage and at the apex, with mature startups looking to commercialize. Its success lies in providing mentorship and handholding support while also extending a platform for visibility and traction in front of industry leaders. This is what the ecosystem demanded and NBEC has delivered."
About NBEC – More information about NBEC including application details can be obtained here: https://www.nationalbioentrepreneurship.in/events/nbec2021