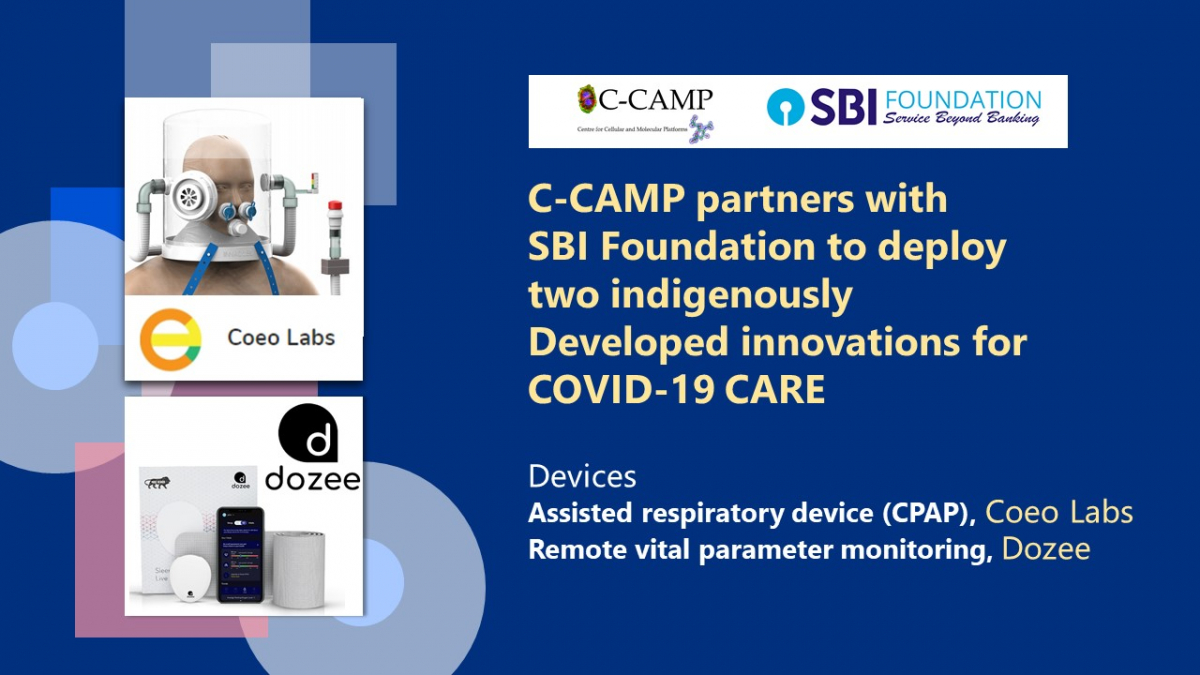 Centre for Cellular and Molecular Platforms has inked a pact with SBI Foundation for CSR support towards boosting existing public healthcare efforts in light of a resurgent COVID-19 pandemic. Through this joint effort, they will bring two new, potentially life-saving technologies in assisted respiratory device and contactless remote vitals monitoring categories for deployment across the country.
The innovations developed by two of India's leading medtech startups, Coeo Labs and Turtle Shell Technologies will be deployed in several cities worst affected by the pandemic.
With new emerging variants found across the country and a steep rise in number of cases over the past few weeks, the pandemic is far from over. Therefore, C-CAMP and SBI Foundation's efforts to deploy Coeo and Turtle Shell's innovations at this juncture is a timely move to add to India's public healthcare arsenal.
Welcoming this landmark initiative by the two partners, Dr Taslimarif Saiyed, C-CAMP CEO & Director said, "The C-CAMP-SBI Foundation partnership heralds a new beginning for ecosystem–driven healthcare impact efforts to bring top-of-the-line indigenously developed biotech and biomedical solutions to market, both national and global. With number of cases growing steadily since January 2021, it becomes all the more important that we continue to deploy cutting-edge COVID-19 solutions and maximize their societal impact. That these COVID-19 solutions are also being developed completely indigenously by India's strong bio innovation community is the second major driving force for our efforts."
The two products selected for the proposed field deployment are Saans Pro, Continuous positive airway pressure (CPAP) device that provides non-invasive respiratory support, by Coeo Labs and Dozee, India's first contactless vital monitoring device by Turtle Shell Technologies. Both are Bengaluru based C-CAMP portfolio start-ups. C-CAMP is looking to deploy these technologies in public health care facilities including Primary Health Centres, hospitals, and quarantine centres to provide better critical care for in-patients and continuous remote monitoring for asymptomatic patients, high-risk groups remotely. Additionally, both are expected to reduce caregiving burden on frontline healthcare workers.
Nitesh Kumar Jangir, Co-Founder, Coeo Labs said "C-CAMP has not only enabled the deployment of Saans Pro but also its product development through several technical collaborations. With the help of C-CAMP and SBI Foundation, we are looking forward to deploying Saans Pro to provide patients with more optimal healthcare solutions and ultimately reduce mortality rate due to COVID-19 especially as cases soar once again."
Mudit Dandwate, CEO & Co-Founder, Turtle Shell Technologies said "With close support from C-CAMP and SBI Foundation, we will deploy Dozee, a remote health monitoring device for high-risk patients across India. By constant automated tracking of vitals, red flagging serious fluctuations and escalating to an ICU in a matter of minutes, we are expecting to save many lives at risk."
Smt. Manjula Kalyanasundaram, Managing Director, SBI Foundation said, "SBI Foundation is committed towards fostering a culture of self-reliance by promoting and scaling-up indigenously designed technologies to combat the pandemic. The SBI Foundation-C-CAMP partnership is distinctive and will set a benchmark in Indian CSR fraternity to increase India's percentage share of the global R&D expenditure."
About the Funding Partner: SBI Foundation, the CSR subsidiary of State Bank of India, has been undertaking CSR initiatives with a vision to improve the socio-economic well-being of the society, particularly of the less fortunate and under-privileged members of the society and enable them to live up to the potential that they all possess.
About C-CAMP: About C-CAMP: Centre for Cellular and Molecular Platforms, C-CAMP's mandate is to enable cutting-edge life science research and innovation, and promote life science entrepreneurship. It is India's premier innovation and technology hub as well as one of the largest and most thriving life sciences ecosystems in the country. C-CAMP has directly funded, incubated and mentored 220+ start-ups over the last few years and is connected to about 2000 startups and entrepreneurs across the country in healthcare, agritech and cleantech. C-CAMP is an initiative supported by Department of Biotechnology, Government of India, Ministry of Science and Technology, Government of India, NITI Aayog-AIM, MeiTY and Department of IT, BT, S&T Government of Karnataka.