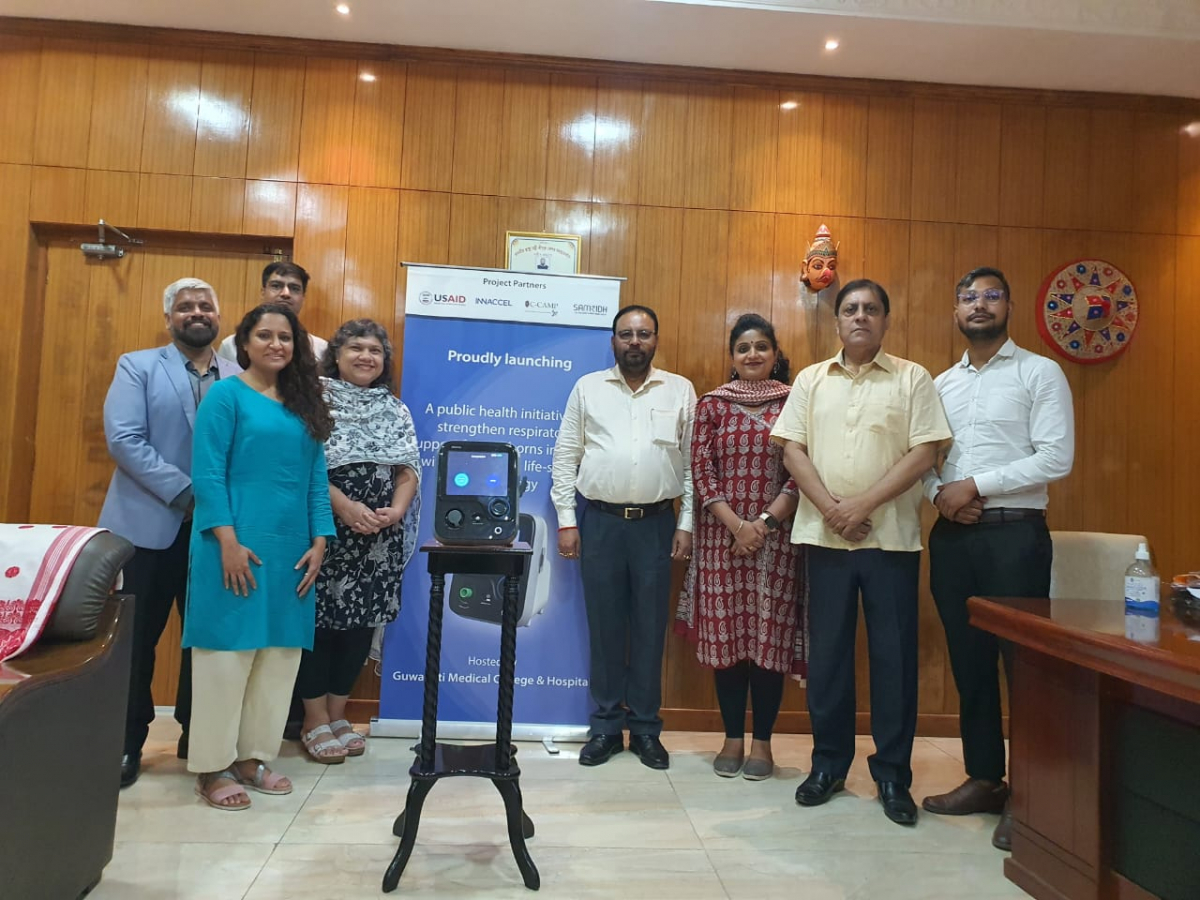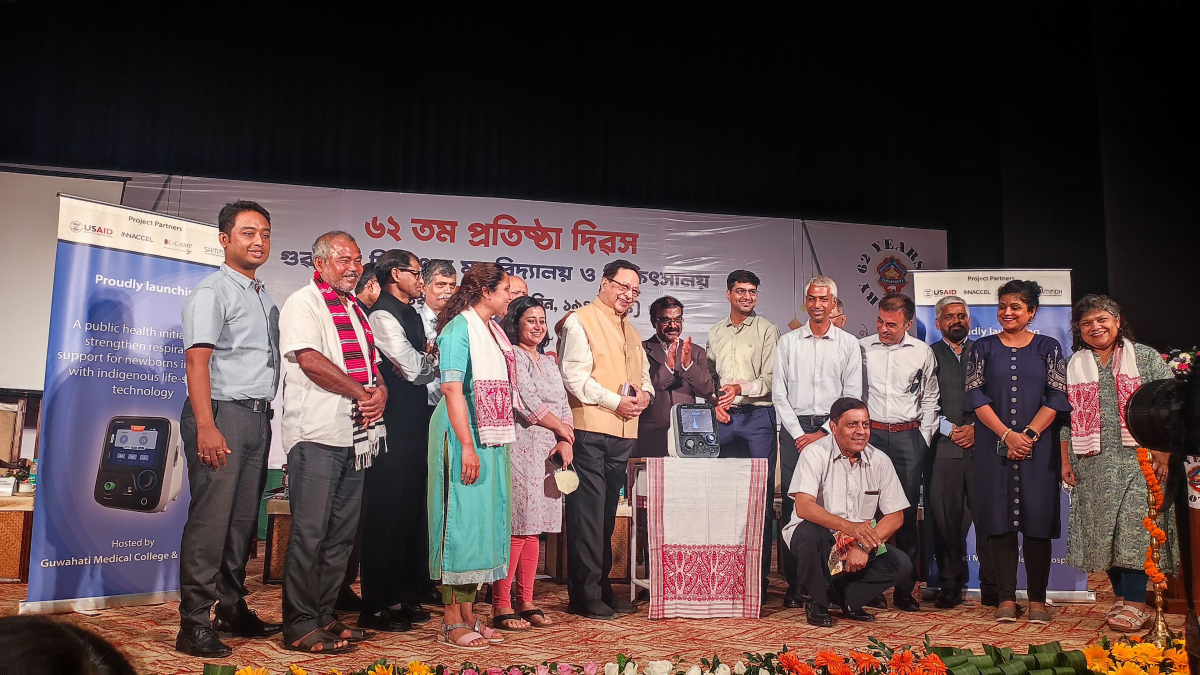 InnAccel Technologies and the Centre for Cellular and Molecular Platforms (C-CAMP) have joined hands with the SAMRIDH Healthcare Blended Finance Facility to strengthen respiratory support for newborns and pediatric populations in Assam with an indigenous life-saving technology to reduce neonatal mortality due to Respiratory Distress Syndrome (RDS) in the state. SAMRIDH is a multi-stakeholder innovation and financing platform supported by the United States Agency for International Development (USAID) and implemented by IPE Global. 
Respiratory Distress Syndrome is the cause of over 1.5 lakh deaths among newborns annually in India, with one-third of deaths occurring during transport to hospitals with Continuous Positive Air Pressure (CPAP) capabilities. In Assam, there are 40 deaths per 1,000 live births, which makes it the state with the third-highest infant mortality rate in India. The condition can be treated with CPAP; however, existing CPAP solutions are not portable and require the use of neonatal intensive care unit-grade infrastructure, which makes them unusable during transport.
Through this partnership, InnAccel Technologies, a Bangalore-based start-up incubated at C-CAMP, will receive access to affordable finance and technical assistance to expand the production and distribution of SAANS, which is the world's first infrastructure-independent, easy-to-use, portable neonatal CPAP system that can provide lifesaving breathing support to infants in hospital settings, as well during transport.
The pilot, which was conducted at the Special Newborn Care Unit of the Guwahati Medical College and Hospital, has demonstrated excellent results. Following this, more than 50 SAANS devices have been deployed across medical colleges in Assam to date, with more deployments underway in district hospitals. The partnership between InnAccel, C-CAMP and SAMRIDH, with support from the National Health Mission - Assam and the Government of Assam, will help deploy 307 units of SAANS in Assam, which are expected to meet almost 100% of the state's current demand to supplement respiratory support technology.
Commending the partnership, Hon'ble Minister, Shri Keshab Mahanta, Health and Family Welfare, Science and Technology and Information Technology, Assam, said, "The Government of India has already set a target to bring down the Neonatal Mortality Rate to single digit by 2030 in the country. As such, the Government of Assam has also given full priority in intensifying the efforts towards improving the Newborn Health in the State. Under the National Health Mission, concentrated efforts and strategically focused interventions have been initiated in the Newborn Health programme in Assam in the last few years. It is indeed a great pleasure that the Centre for Cellular and Molecular Platforms (C-CAMP) through USAID-supported SAMRIDH initiative, has come forward to strengthen respiratory support to Newborns and infants care in the State."
Advancing the project in Assam, Dr. M. S. Lakshmipriya, Mission Director, National Health Mission in Assam, said, "I am hopeful that this partnership with support from National health Mission will help curtail the current rate of neonatal deaths and address the required infrastructural support in Assam. The deployment of this world-class, low-resource technology enabled by this collaboration can prevent such deaths in remote, inaccessible districts of the State where statistics for infant mortality are particularly grim. Technology built for public health infrastructure is a step in the right direction in the country."
Announcing the launch at Guwahati Medical College & Hospital, Vandana Stapleton, Acting Office Director of the USAID Health Office at the U.S. Embassy in New Delhi, said, "Together with our Indian and global partners, the U.S. government, through USAID, continues to lead the worldwide effort to prevent child deaths. Given that Assam reports the third-highest infant mortality rate in India, we are hopeful that this innovation will improve access to lifesaving facilities for newborns and pediatric patients, especially from under-represented and hard-to-reach communities."
Dr. Taslimarif Saiyed, CEO & Director, C-CAMP, said, "Thanks to programs like these, world-class technologies are being made available to needy populations at a fraction of the usual cost, saving valuable resources while also providing support to indigenous, Make-in-India innovation development. C-CAMP has played an important role in enabling several technologies such as this, especially in the North East, a historically underserved area in India."
Speaking about the collaboration, Mr. Himanshu Sikka, Project Director, SAMRIDH and Chief Strategy & Diversification Officer, IPE Global, said, "At SAMRIDH, we are committed to support the expansion of indigenous and innovative health solutions with better access to affordable capital and technical assistance. We are excited to collaborate with C-CAMP and InnAccel Technologies to scale the manufacturing and distribution of SAANS in Assam. This device is cost effective and can be deployed easily in resource constrained settings and will augment public health infrastructure for the neonatal and pediatric population in the state."
Siraj Dhanani, CEO & Co-Founder, InnAccel Technologies, said, "SAANS is a revolutionary product that has already saved almost 10,000 babies in India and Ethiopia. These are babies that would have otherwise been lost due to lack of breathing support at the point of care. We are confident that SAANS will universalize breathing support for all infants in Assam, providing the breath of life that so many of our babies desperately need to survive."
ABOUT THE U.S. AGENCY FOR INTERNATIONAL DEVELOPMENT (USAID)
USAID is the U.S. Government's premier international development agency and a catalytic actor driving development results. USAID works to help lift lives, build communities, and advance democracy. USAID's work advances U.S. national security and economic prosperity; demonstrates American generosity; and helps countries progress along their development journey. In India, USAID is collaborating with the country's growing human and financial resources through partnerships that catalyse innovation and entrepreneurship to solve critical local and global development challenges. To learn more, visit www.usaid.gov/india
ABOUT THE SAMRIDH HEALTHCARE BLENDED FINANCE FACILITY
SAMRIDH Healthcare Blended Finance Facility is supported by the United States Agency for International Development in technical collaboration with Atal Innovation Mission & Women Entrepreneurship Platform, NITI Aayog, Principal Scientific Advisor to the Government of India, the National Health Authority, Indian Institute of Technology Delhi, Rockefeller Foundation, Axis Bank, IndusInd Bank, Caspian Debt and NATHEALTH, and is managed by IPE Global.  Through this initiative, SAMRIDH combines commercial capital with public and philanthropic funds to drive greater resources towards market-based health solutions that can improve access to affordable and quality healthcare services for India's most vulnerable.
SAMRIDH is recognised among 'India's top 50 COVID-19 last mile responders' by the World Economic Forum. The initiative is also one of the five finalists at the P3 Impact Award 2022 led by the Office of Global Partnerships at the U.S. Department of State, Concordia, and the University of Virginia Darden School of Business Institute for Business in Society. To learn more, visit www.samridhhealth.org
ABOUT IPE GLOBAL LIMITED (IPE GLOBAL)
IPE Global is an international development consulting group - the largest in South Asia - providing technical assistance and solutions for equitable development and sustainable growth in developing countries. Headquartered in New Delhi, India with seven international offices in Bangladesh, Ethiopia, Kenya, Myanmar, Nepal, Philippines and United Kingdom, the Group offers a range of integrated, innovative and high-quality consulting services across several sectors and practices. These include Health, Nutrition & WASH, Social Economic Empowerment, Urban & Infrastructure Growth and, Education & Skills Development to name a few. IPE Global has successfully undertaken over 1000 assignments in over 100 countries and, over the years, has transformed the lives of over 600 million people globally. To learn more, visit www.ipeglobal.com
ABOUT INNACCEL TECHNOLOGIES PRIVATE LIMITED
INNACCEL is a medical technology company creating and launching a portfolio of innovative medical devices and technologies. Incorporated in October 2012, the first two years focused on the development of product engineering and development platform to drive MedTech product innovation in alignment with US FDA and European CE regulatory requirements. In mid-2014, INNACCEL co-founded 2 teams focused on Critical care (COEO Labs) and Maternal Care (Sattva MedTech), implementing the Stanford Bio design clinical immersion program, identifying, and validating the key unmet needs in the Indian healthcare setting. The technologies were developed and launched in 2019. The products are designed for the infrastructure and skill-limited healthcare environments typically seen in low-income countries, thereby bringing quality care and improved healthcare outcomes to these settings, where the vulnerable population typically receives care. The product portfolio includes technologies in the critical care and maternal & child health areas.
 
ABOUT CENTRE FOR CELLULAR AND MOLECULAR PLATFORMS (C-CAMP)
C-camp is one of India's premier innovation and technology hub as well as one of the largest and life sciences incubators in the country. C-CAMP has directly funded, incubated and mentored 200+ start-ups over the last few years and is connected to about 1000+ start-ups and entrepreneurs across the country in healthcare, agriculture and environment. C-CAMP is an initiative supported by Govt of India agencies including Department of Biotechnology, Ministry of Science and Technology, NITI Aayog-AIM, MeiTY and Department of IT, BT, S&T Government of Karnataka.           
Press Coverage: 
https://www.biovoicenews.com/a-unique-project-to-strengthen-respiratory-support-for-newborns-in-assam/
https://www.biospectrumindia.com/news/77/21981/c-camp-usaid-launch-respiratory-support-technology-for-newborns-in-assam.html
https://www.eastmojo.com/assam/2022/09/20/lifesaving-tech-for-respiratory-support-for-new-borns-launched-in-assam/