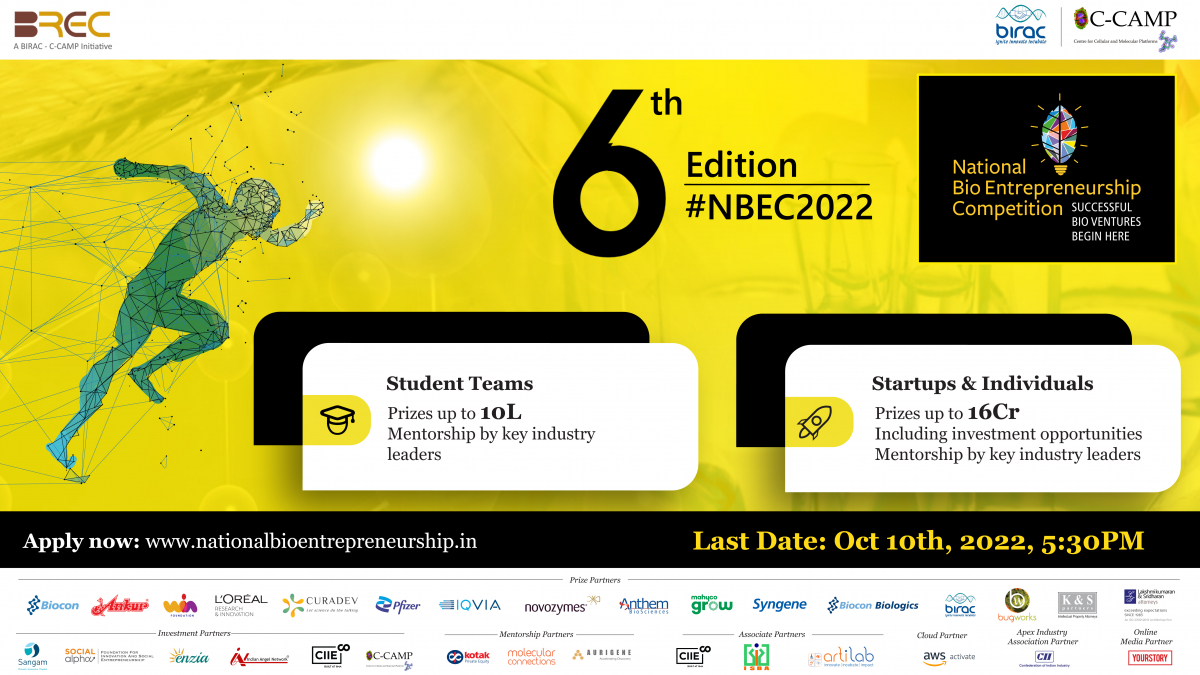 NBEC, India's largest and the most prestigious national competition for bio entrepreneurs, is being held for the sixth consecutive year by Centre for Cellular and Molecular Platforms as part of the BREC – the BIRAC Regional Entrepreneurship Centre, established at C-CAMP in partnership with BIRAC. NBEC aims to attract, identify and nurture deep science driven business ideas that address India's most pressing societal challenges in new, innovative, and commercially viable ways.  NBEC 2022 has in store 16 Cr INR in cash prizes and investment opportunities for winners, unparalleled in any competition in India's bio startup domain.
The competition was launched today by Dr. Vijay Chandru, Co-Founder & Director, Strand Life Sciences in presence of startups, several eminent industry partners and stakeholders from the ecosystem. Dr. Chandru was joined by Dr. Alka Sharma, Senior Advisor, DBT and MD, BIRAC and Dr. Manish Diwan, Head, Strategic Partnerships & Entrepreneurship Development, BIRAC in formally releasing the competition poster and opening call for applications.
Sharing the history of how bio-entrepreneurship started in India, Dr Chandru in his address said, "NBEC along with its partners has moved the culture of starting-up with risky ideas in biosciences to the next level. This competition has taken bio-entrepreneurship deeply national into Tier 2 & 3 cities. What started as a small amount of prize money has gone upto more than a million dollars, which is exciting for youngsters starting their journey."
C-CAMP CEO and Director Dr. Taslimarif Saiyed speaking at the launch event said, "NBEC over the years has seen a true amplification of bio entrepreneurship in India. It has touched almost all states & UTs in India and built a strong pipeline of deep-science based innovations."
Dr Alka Sharma said, "I am very happy to note that even students are eligible to apply in this competition. Early nurturing will help our young talent take forward their ideas."
Dr Manish Diwan said, "NBEC truly reflects the strength of Public-Private-Partnership in the entrepreneurship space. Besides recognizing talent and identifying top ideas, it has nudged & inspired many bio-entrepreneurs to contribute towards building a larger ecosystem."
Some of the biggest names in Indian biotech arena have been associated with NBEC since its inception in 2017, such as Dr Kiran Mazumdar Shaw, Executive Chairperson, Biocon. Speaking on the need for entrepreneurship to take ideas to society, she said "NBEC is a very exciting competition because it unleashes new ideas and entrepreneurial potential of our young people year upon year."
NBEC in the last five years has created a steady pipeline of innovative technologies with demonstrated commercial potential, that address India's most formidable challenges in healthcare, agriculture and environment. This is a cohort of ~200 expert-vetted and hand-picked business ideas spanning all sub-domains of Life Sciences, with special focus on emerging areas like digital health, maternal & child health, Antimicrobial Resistance, water and sanitation, green chemistry, and personal care.
Indexed in this press release: Highlights of past NBEC winners, NBEC – Tier II, Tier III reach, What's new in NBEC 6, Application Link
Highlights of past NBEC winners:.
Fibsol, Chennai, Agritech, NBEC 2017 Winner Nanofiber platforms to create light-weight delivery formulations for agri-inputs such bio-fertilizers, pesticides and other plant growth stimulants.
Milestone: Raised seed funding of 2.8 Cr. Patent granted
Nemocare, Hyderabad, Maternal & Child Health, Digital Health NBEC 2018 Winner - Raksha an IoT enabled smart wearable technology which monitors vital parameters in neonates for continuous health tracking & remote monitoring.
Milestone: Patent filings under process
Bioscan Research, Ahmedabad, Diagnostics, Medtech, NBEC 2019 winner – Cerebo, a near-infrared spectroscopy based easy-to-use, handheld device for quick, non-invasive detection of intracranial haemorrhages in brain injuries.
Milestone - ISO 13485 Certification, Regulatory approvals for sales in India and US FDA application filed. Four patents granted.
Sascan Meditech, Thiruvananthapuram, Medtech NBEC 2020 Winner - Cerviscan is a medtech device for early detection of cervical cancers and biopsy guidance. Their first product OralScan is for screening and early detection of oral cancers.
Milestone: Clinical study covering 100+ patients completed, company is ISO 13485:2016 certified and OralScan is CE marked
Agdhi Technologies, Bangalore, Agritech, NBEC 2020 Winner: Agdhi Tech has developed an AI-based vision technology combining photometry, radiometry and computer vision to offer efficient, non-destructive point-of-care methods for seed classification and seed quality analysis.
Milestone: Installed at 2 Major Seed Producing Companies
Ahammune, Pune, Drug Discovery, NBEC 2021 Winner – Drug to arrest the progress of Vitiligo and induce re-pigmentation of depigmented patches. 
Milestone: Phase I human studies of lead drug candidate for vitiligo with Ahmedabad based CRO- Veeda. Raised an undisclosed amount in a Pre-Series A round led by Ideaspring Capital and Indian Angel Network.
NBEC – a Tier II, Tier III Champion
With approximately 12,000 applications received from 34 States & UTs in the past 5 years, NBEC has established itself not only as India's biggest innovation showcase but also as a unique platform to break the hitherto metro-based innovation silos and unlock the potential of science-led entrepreneurship among Tier II, Tier III cities.
A look at our Footprint –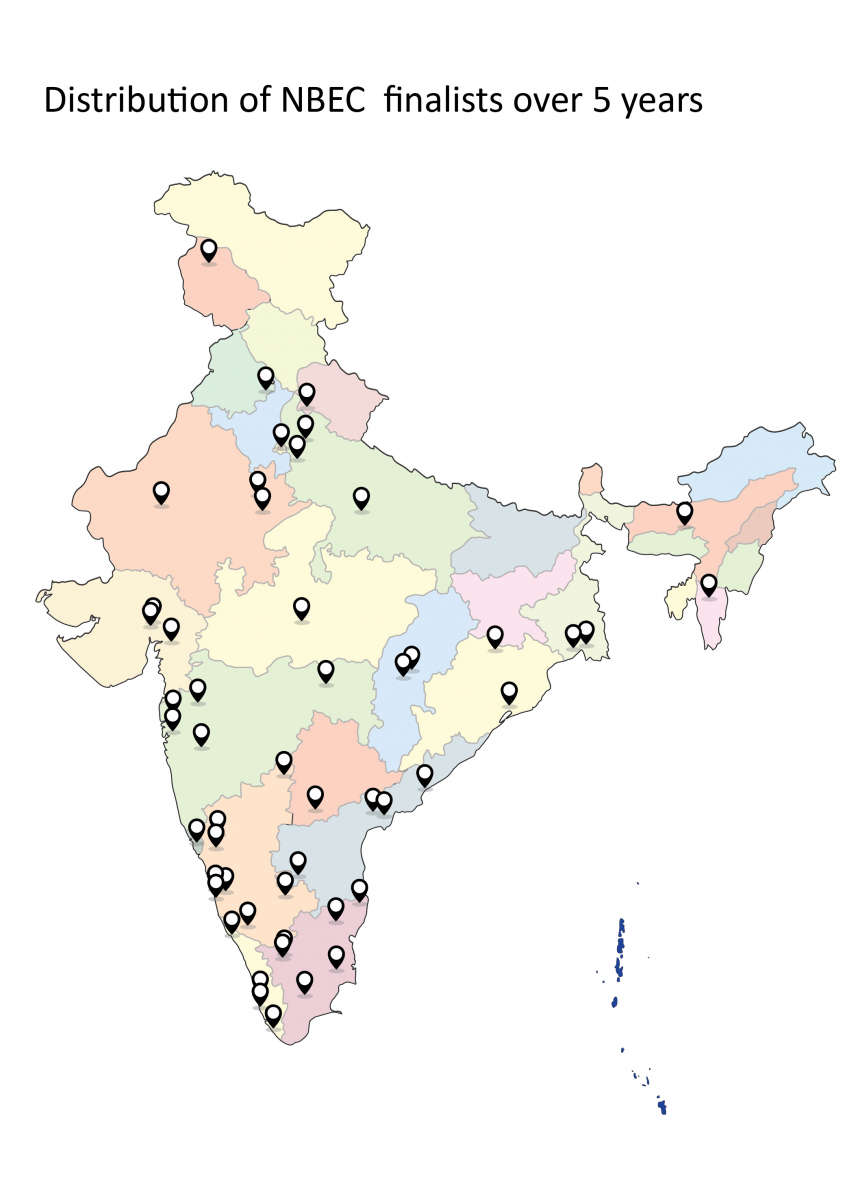 2 parallel tracks, one for startups, entrepreneurs and established companies in India and an exclusive one for aspiring student teams.
Prize money of upto 10 lakhs for winners of student teams track and 16.0 Cr including investment opportunity for startup track.
Winners will get access to mentorship by key industry leaders. 
Shortlisted finalists in both startup and student tracks will participate in a specially designed Entrepreneurship Development Boot Camp to inculcate important Entrepreneurship development skills from top-of-the-line industry and academic mentors.
30+ Industry and Investment Partners.
Focus areas: Healthcare, Therapeutics, Vaccines, Medical Devices, Diagnostics, Digital Health including AI & ML, Maternal & Child Nutrition, Antimicrobial Resistance (AMR), Agritech & Mol Bio, Al & ML in Agri, Food & Nutraceuticals, Environmental Biotech, Clean & Renewable Energy, Water & Sanitation, Industrial Biotechnology, Personal Care Products
About NBEC–More information about NBEC including application details can be obtained here: https://www.nationalbioentrepreneurship.in/events/nbec2022/ Deadline – 10th October 2022
Press Coverage
https://yourstory.com/2022/09/deep-science-c-camp-bio-entrepreneurship-competition-nbec/amp
https://www.biovoicenews.com/6th-edition-of-c-camps-bio-entrepreneurship-competition-nbec-kicks-off/
https://www.biospectrumindia.com/news/20/21969/c-camps-6th-bio-entrepreneurship-competition-kicks-off.html
https://www.biospectrumindia.com/news/20/21969/c-camps-6th-bio-entrepreneurship-competition-kicks-off.html