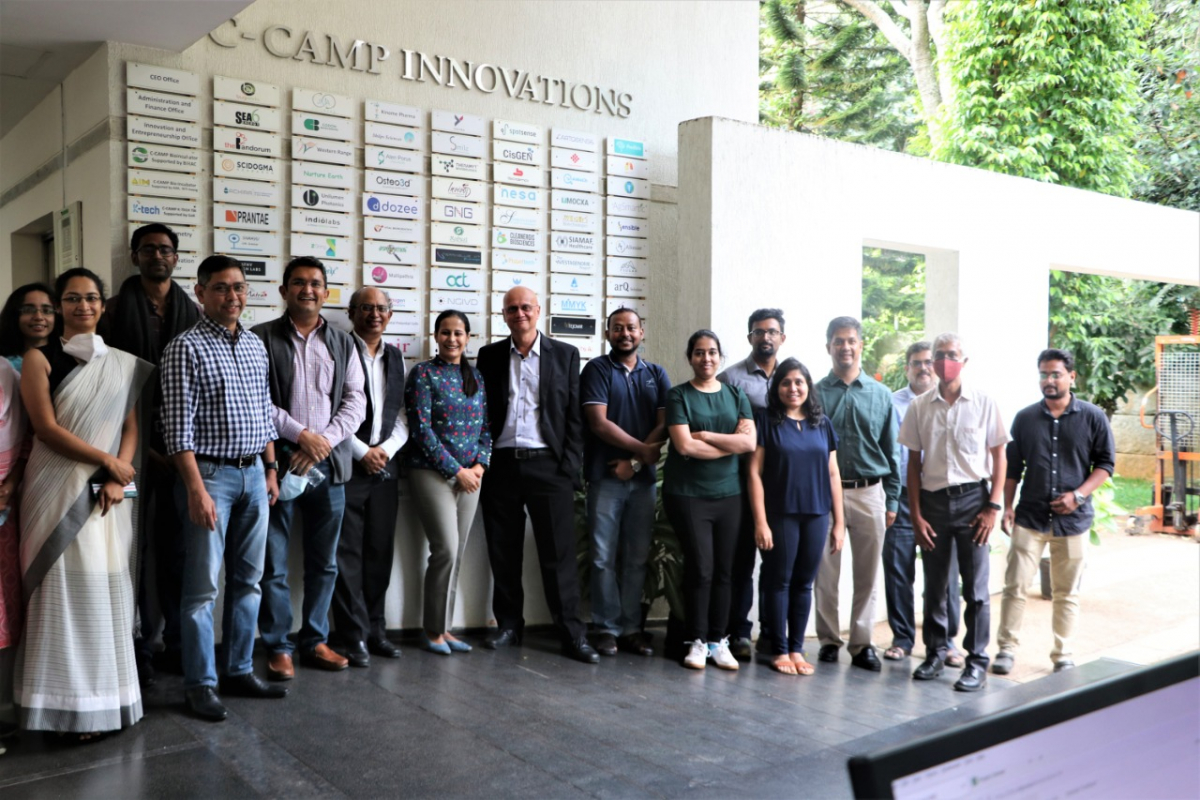 Centre for Cellular and Molecular Platforms C-CAMP, one of India's largest and most exciting biotech ecosystems and a global hub for deep-science/deep-tech led innovations has had a phenomenal quarter in 2022 with seven of its marquee deep-science startups having raised more than 70 Million USD or 550+ Cr INR in Series A, Series B investments and acquisitions at a total valuation of over 250 Million USD or 2000 Cr INR. The seven startups Bugworks, Sea6 Energy, String Bio, Eyestem, Pandorum, Achira and Zumutor are being supported by C-CAMP since a decade. Such high investments for first-in-class high-risk technologies is an early indication of investor interest and could be a defining moment for the future of science-led entrepreneurships in India and beyond.
C-CAMP organized a coming of age event to celebrate these seven stars Bugworks, Sea6 Energy, StringBio, Eyestem, Pandorum, Achira Labs and Zumutor at its premises.
Speaking at this fete, Dr Taslimarif Saiyed, C-CAMP CEO & Director said, "These recent developments validate our long standing approach to building innovation: deep-science, high-risk but gamechanging, solving not only local but global problems. The second factor is the international validation from investors outside of India that underline the global relevance of these technologies. These seven could be global torchbearers of India's emerging deep science-based innovation community. "
Deep technology is inherently challenging considering the capital cost, infrastructure dependence and high-risks associated at every step of product development, regulatory approval and market entry. Between them, these seven C-CAMP startups cover all deep tech domains currently making headlines in science – from antibiotic discovery to immuno-oncotherapy, stem cell therapy to tissue engineering, molecular diagnostics to sustainable green technologies. A primary ingredient for deep tech innovation across the world has been an enabling ecosystem with an appetite for risk. C-CAMP since its early inception days has strived to build such an ecosystem in India which is now starting to pay dividends.
"C-CAMP has gained much acclaim in India and beyond as an innovation engine, a catalyst, a cradle of innovation. These early stage innovation bets have started coming to fruition which is exciting for their science as well as India's deep-tech innovation space. Together these seven stars are addressing humanity's most pressing problems in healthcare, agriculture and environment. This semi-unicorn status will only help bring their solutions to society faster." – Concluded Dr Saiyed.
Startup Fundraising Details
Bugworks - A novel broad spectrum antibacterial agent (BWC0977) available in both IV and oral forms to treat Multi-Drug Resistant infections. They have currently raised 18Million USD in Series B led by Lightrock & other investors.
Sea6 Energy – Proprietary large-scale ocean seaweed cultivation technology and leverages this seaweed to create environmentally friendly products for agriculture, animal health, food, bioplastics and renewable chemicals. They have currently raised 18.5 Million USD in Series B led by BASF Venture Capital & other investors
String Bio – Proprietary fermentation platforms to convert a potent greenhouse gas – Methane- into value-added solutions for animal nutrition, crop inputs and biodegradable polymers. They have currently raised 20 Million USD in Series B led by Woodside Energy Group and other investors.
Eyestem – Stem cell based affordable solutions to reverse vision loss in retinal degenerative illnesses. They have currently raised 6.4 Million USD in Series A led by Biological E and other investors.
Achira – Proprietary lab-on-chip platform to perform rapid, quantitative diagnostic tests. Recently a major pharma Cipla Ltd acquired 21.05 per cent stake for Rs 25 crore.
Zumutor – Antibody engineering platform developing immune-therapeutics targeting tumours. They have currently raised 6.2 Million USD led by Siana Capital & other investors.
Pandorum - Proprietary technology platform to create 3D functional tissues such as bio engineered cornea & liver. They have currently raised 4.8 Million USD led by Indian business tycoon and chairman of Hero Motorcorp Sunil Kant Munjal
C-CAMP is supported by the Department of Biotechnology, Govt of India (GoI) and is one of the cluster organizations of Bangalore Life Science Cluster (BLiSC). Its mandate is to enable cutting-edge life science research and innovation and promote life science entrepreneurship. C-CAMP has directly funded, incubated, and mentored over 320 start-ups in the areas of healthcare, agriculture, and environment over the last few years. C-CAMP leverages deep-science to bring out innovations for society & our portfolio covers emerging areas such as Digital Health & AI, Clean technologies, Antibiotic Resistance, Stem Cell technology, Drug Discovery, Agri-tech etc. It is also connected to more than 2000 startups and entrepreneurs across the country.
C-CAMP is supported by key GoI partners including Office of Principal Scientific Advisor to GoI, Department of Science and Technology, Atal Innovation Mission and Niti Aayog, Ministry of Electronics and IT and MeitY Startup hub, BIRAC, Startup India, DPITT, MSME, ITBT Karnataka and several international and corporate partners. Find out more at http://www.ccamp.res.in
Press Links -
https://timesofindia.indiatimes.com/india/7-deep-science-firms-at-bengalurus-c-camp-raise-70-million-in-q1/articleshow/93780196.cms?utm_source=twitter.com&utm_medium=social&utm_campaign=TOIDesktop [TOI]
https://economictimes.indiatimes.com/tech/funding/incubated-at-c-camp-seven-deeptech-startups-have-raised-more-than-rs-550-cr/articleshow/93782955.cms [Economic Times]
https://www.thehindubusinessline.com/companies/c-camps-seven-deep-science-startups-together-raised-more-than-550-crore-in-q1/article65810332.ece [Hindu Business Line]
https://yourstory.com/2022/08/deep-science-incubator-c-camp-startups-funding-bugworks-string-bio/amp [YourStory]
https://www.deccanherald.com/city/c-camp-helps-innovative-startups-raise-rs-550-crore-1139753.html [Deccan Herald]
https://www.biospectrumindia.com/news/20/21861/c-camp-lauds-seven-marquee-startups-for-contributing-towards-innovation.html [BioSpectrum]
http://www.pharmabiz.com/NewsDetails.aspx?aid=152864&sid=2 [Pharmabiz]
https://bwdisrupt.businessworld.in/article/Incubated-At-C-CAMP-Seven-Deeptech-Startups-Raise-Over-INR-550-Cr/25-08-2022-443843/ [Business World]
http://www.uniindia.com/~/c-camp-s-startups-raise-funds-acquisition-valued-at-rs-2-000-cr-plus/Business%20Economy/news/2809116.html [United News of India]
https://www.indiainfoline.com/article/news-top-story/c-camp-serves-as-a-global-hub-for-deep-tech-driven-breakthroughs-122082600320_1.html [India Info Online]