Technology Showcase 2.0 on 13th Oct, 2023.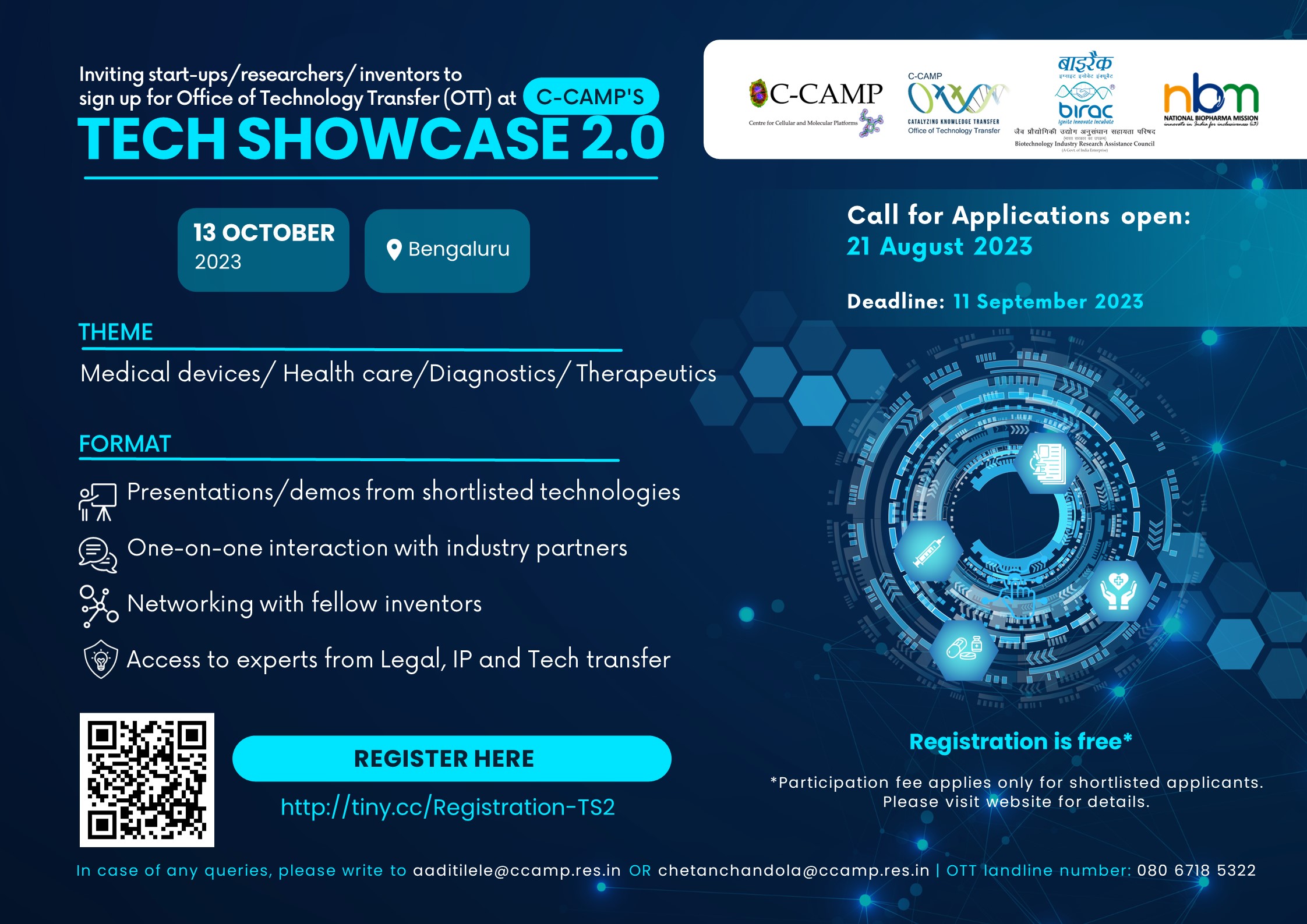 S. No.

Title

Domain

Category

Brief

TRL

1.

BioSampler: Expanding Diagnostic Accessibility in Rural Areas.

Diagnostics

Start-up

User friendly, Bio-specimen Micro sampling device based on Dried Matrix Technology. Affordable and suitable for resource limited settings.

TRL 7-9

2.

Device for Fertility Preservation

Medical Devices

Start-up

Vitrification device for preservation of fertility factors (i.e., gametes).

TRL 7-9

3.

PathCrisp-AMR-Carbapenem Resistance detection kit

Diagnostics

Start-up

CRISPR based POC device to detect various Carbapenem resistance genes, thus supporting in right therapeutic treatment.

TRL 4-6

4.

Non-invasive Device for Heart-attack Diagnosis.

Diagnostics

Start-up

Hand-held diagnostic device with a urine analyser strip to diagnose the presence of the proteins which are the biomarkers of heart diseases.

TRL 1-3

5.

Gaze Pattern Based Screening for Dyslexia

Screening and Assistive technology

Start-up

Digitally enabled gaze pattern based screening
to screen dyslexic children.

TRL 7-9

6.

Alarm System and CPAP System to Prevent SUDEP (sudden unexpected death in epilepsy)

Medical Devices

Start-up

Developing seizure prediction and alarm system for epilepsy patients. Also integrated seizure sensing with apnea (CPAP

and BIPAP) machine.

TRL 4-6

7.

Continuous Glucose Measurement Sensor for Enhanced Diabetes Management.

Medical Device

Start-up

Integrating bluetooth-based continuous glucose measurement sensor with neural network virtual monitoring for enhanced diabetes management.

TRL 4-6

8.

Height Adjustable Intubation pillow

Medical Device

Start-up

Developed inflatable intubation pillow. Helps in the ease of intubation and mask ventilation.

TRL 4-6

9.

Device to Deplete Antibiotics from Wastewater to Counteract AMR

Healthcare

Organization

A device for in-line depletion of anti-infectives from effluent wastewater. Utilizes waste material as adsorbent material in cartridges. Device works on a diverse class (~11) of antibiotics, antivirals and NSAIDs.

TRL 4-6

10.

Neodocs Test Kits

Diagnostics

Start-up

This is an instant lab test that can be taken at home. The test cards can be captured by a smart phone and results can be obtained within 30 sec through an app.

TRL 7-9

11.

Antimicrobial BioStents Grafts

Medical Devices

Individual

Developed a novel class of biomedical implants designed to support and expedite the healing of damaged tissues. Incorporated with advanced antimicrobial properties directly into the graft material, ensuring a dual-action approach towards tissue repair and infection prevention.

TRL 4-6
Office of Technology Transfer  (OTT) at the Centre for Cellular and Molecular Platforms (C-CAMP), an initiative supported by BIRAC under National Biopharma Mission [NBM], Govt. of India. OTT is organizing Tech Showcase 2.0 to bring inventors and industry at one place with the aim of commercializing technologies. Experts from Industry will join the event.
We are inviting inventors from Healthcare domain (details below) for the event. Applications will be screened, and shortlisted technologies will be invited for the event. Here are some points for your attention in this regard.
What is there for inventors:
Connect with industry - licensing opportunity

Connect with other inventors to find complementary strengths - opportunities for collaboration
Who is eligible:
Inventors (start-ups/academia)

Domain: Healthcare domain only (i.e., Therapeutics, Drug-delivery, Diagnostics, Med-tech, Medical devices & Digital Health, Life science R&D, Drug screening)
For registration, scan the QR code shown in poster (above) or click here:  http://tiny.cc/Registration-TS2
Fees:
Registration: FREE
Showcase Fee: 3000/- (If shortlisted)*
* The showcase fee is only applicable for shortlisted non-BLiSc participants. (i.e., Participants who are not part of Bangalore Life Science Cluster). There is NO Showcase fee for shortlisted BLiSc participants.
Important dates:
Call opens : 21st Aug 2023
Call closes : 11th Sept 2023
Tech Showcase 2.0 : 13th October 2023
Venue : Bangalore (final venue in Bangalore will be updated)
For any queries, please write to us at : aaditilele@ccamp.res.in OR chetanchandola@ccamp.res.in
You can also give us call at 080 6718 5322